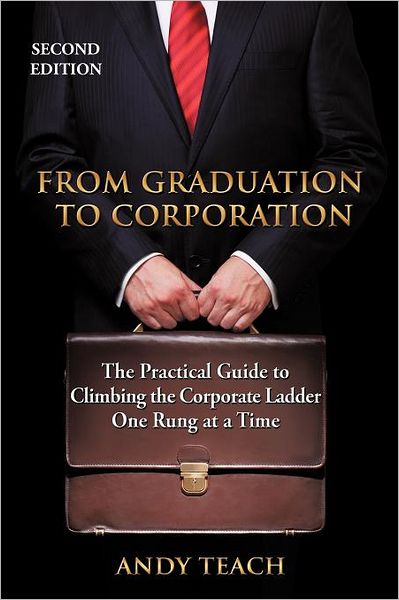 "The aptly named Andy Teach does just that in his new book - teach. I have coached thousands of people on building their careers and I heartily recommend this book to anyone graduating from college or starting out in a new profession. It not only gives you a practical step-by-step (or should I say rung-by-rung) approach, it comes from someone who has definitely been there and done that. A must read for grads!"

Libby Gill, Executive Coach and Author of YOU UNSTUCK

"I recommend this book as a "must read" for college graduates as well as those who have been climbing the rungs of the ladder to success but not yet made it to the top."
Bettie Corbin Tucker, bookreviewers.org
(click here to see full review)
"While we all could develop a list of Corporate Commandments, Andy's list of 72 is a comprehensive list that employees should post in their workplace and refer to often! A lot of errors and issues would be avoided if the commandments were followed. ...This is a good book and I recommend it for college graduates as well as those in the corporate world wishing to know more about how to climb the ladder to success."

College Parent Magazine

"
Andy Teach nails it with this insightful look by an insider into the convoluted world of the American corporation. A daunting subject for new grads, but Andy breaks it down into the essential components in ways no other book has ever dared
."
Vin Smith, Midnight Bookworm Radio Host


"From Graduation To Corporation is a valuable guide for anyone beginning their career--or even beginning a second career later in life. Human Resources would do itself a favor by presenting each new hire with a copy of this book."

Edward Halebian, Television Producer/Director
"The guidebook that tells the 'unwritten' rules to achieving a successful career in a step-by-step method, this book also reminds us that nothing comes without effort and patience."
Ranked as one of "Top Ten Books for High School Graduation Gifts-Books the Graduate Will Actually USE"-Yahoo! Voices
(click here to see article)
"
Andy Teach's book provides deep insight into the inner workings of office life. Filled with humor and engaging anecdotes, this book provides a practical guide for any college student nervous about entering the corporate world. I would highly recommend this book as a resource to students who want to succeed in their future careers by learning from a corporate veteran's failures and successes."

Senior, Stanford University

"I thought this book was very informative and helpful. It was an enjoyable read and interesting since the author includes many examples from his own life.
As a college student, I would definitely recommend it to anyone who is thinking of entering the corporate world
."
Kate, Princeton University student
"Recommended Reading"
Entry Level Careers Examiner, examiner.com
(click here to see full article)
"Andy's book is one of the most thorough, honest books on this subject I have ever read."

Scott Bluebond, former college instructor

"This isn't just another book...it's one of the best handbooks to have when you get into trouble or need ways to improve in many contexts of corporation life. His structure is clean and crystal clear, his sentences and ideas are concise, and his advice is honest and truthful. Just get the book and see what I mean."

NVS, Computer Scientist

"
This is a great guide for college graduates, and really EVERYONE working in the corporate world. Following the advice in this book at the start of your career will give you a "leg up" on your competition and co-workers."
Scott Braverman, former Merrill Lynch financial advisor


"This book is an extremely informative career guide. I recommend it highly. Although the book appears to target college seniors or recent college graduates who are looking to accelerate their professional learning curves, this book could benefit anyone in the workforce given the amount of information in it."
C. Robertson, Los Angeles attorney

"A common sense approach in understanding what is really going on in your bosses' mind... and what should be going on in yours. A great gift for the college graduate."
U.S. Government Contractor

"College students aiming for a good job in a big company after graduation need to get a copy of Andy Teach's book and read it. His book is a prerequisite for those entering the corporate workplace."
Jack Roberts, radio show host, Cable Radio Network